Dogs are also treated as a solders, while on Police duty and there may be dress, equipments to protect dogs from bullets, other kinds of injuries, rules to keep them well along with legislation, rehabilitation as well after retirement, because there are no rules and legislation's for Police animals in India.
Saturday, February 5, 2011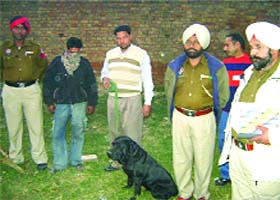 Ahead of the Commonwealth Games due late next year, the Delhi Police has decided to increase the strength of its dogs squad by inducting 50 more sniffers. The department will soon come up with an Expression of Interest (EOI) for hiring about 50 dogs along with their trainers.
"We want to ensure a foolproof security cover during the Commonwealth Games. These additional dogs will help us in keeping any untoward incident at bay," Delhi Police spokesperson Rajan Bhagat said.
At present, there are 48 sniffers in the squad and the department is already in the process of procuring 75 others apart from the latest induction. Bhagat said these 50 dogs will be hired only for a month during the Games.
"The dogs will be imparted skills in both sniffing and tracking. They will especially be trained for identifying narcotics, explosive substances and arms among others before assigning tasks to them," the officer said.
These dogs will mainly be guarding various stadiums and Games sites during the XIX Commonwealth Games to be held between October 3 and October 14, 2010 in the national capital. Sniffers are often deployed in the bomb disposal squad, VIP duties and other security related arrangements.
A handler from the City Police has been exclusively assigned with the task of taking care of the 'Tiger' at the modern kennel situated inside the sprawling Armed Reserve Ground in K.K. Nagar here.
The young canine is being given basic training in obedience at the kennel and would soon be imparted specialised training for a period of six months in "smell work" to detect narcotic substances.
Little 'Tiger' would be inducted into active police work from April next year upon completion of specialised training and would be solely utilised for detecting narcotic substances just as its predecessor 'Rosy'.
The training would be in such way that the dog is able to sniff and detect narcotic substances hidden inside a building or concealed inside a luggage / parcel, human body, in vehicle and beneath the ground, say handlers attached to the Dog Squad.
A systematic diet schedule is being followed for 'Tiger' which is fed with half litre milk, about 100 grams of dog food and a boiled egg in the morning.
The afternoon diet comprises 250 grams of rice, little quantity of beef and vegetables.
The menu for dinner is half litre milk, two bread slices and a boiled egg. In addition to this, the puppy is being fed with vitamin tonics.
With 'Rosy' retired from service and 'Tiger' yet to be formally inducted in its place, the Dog Squad of the City Police has at present the lone 'Julie', a German Shepherd sniffer dog specialised in detecting explosive substances. Though retired from service, Rosy is still being looked after at the kennel.

Gender:

Female
0
0%
Males
13
100%
Causes of death:
Shot and killed
7
0%
Auto Accidents
2
0%
Vehicular Assaults
1
0%
Fall
2
0%
Natural Disaster
0
0%

Aircraft Accident

0

0%
Duty Related Illness
0
0%
Heat exhaustion
1
0%
Gunfire accidentals
0
0%
Animal Attack
0
0%

K9 Police Dog "Ricky"
Mishawaka Police Department, Indiana
End of Watch: Saturday, January 9, 2010

K9 Police Dog "Andy"
Plymouth Township Police Department, PA
End of Watch: Wednesday, October 22, 2008

Read Officers Story Submit a Condolences

K9 Police Dog "Hieke"
Coral Springs police, Florida
End of Watch: August 28, 2008
K9 Police Dog "King Luther"
Rutland Police Department, Vermont
End of Watch: August 20, 2008
K9 Police Dog "Oozi"
Broward County Sheriff's Office, Florida
End of Watch: Thursday July 17, 2008
K9 Police Dog "Stryker"
Oceanside Police Department, California
End of Watch: December 31, 2007
K9 Police Dog "Dakota"
Vancouver Police Department, Washington
End of Watch: Tuesday, October 22, 2007
K9 Police Dog "Cezar"
Joplin Police Department, Missouri
End of Watch: Tuesday, September 11, 2007
K9 Police Dog "Rico"
Arizona Department of Public Safety
End of Watch: Tuesday, August 21, 2007
K9 Police Dog "Dio"
Kansas City Police Department, Missouri
End of Watch: Monday, August 20, 2007
K9 Police Dog "Flip"
Findlay Police Department, Ohio
End of Watch: November 23, 2006
K9 Police Dog "Diogi"
Polk County Sheriff's Office, Florida
End of Watch: Thursday, September 28, 2006
K9 Police Dog "Ranger"
Long Beach Police Department, California
End of Watch: Sunday, October 2, 2005

Read Officers Story Submit a Condolences
2009 copyright © Police Special Inc. All rights reserved. Powered by Lawrence Park Place.